The Adirondacks Region is easily the best place for outdoor activities in America. It is a government protected park in the state of New York and is spread in an area bigger than New Hampshire. After Alaska, it is the USA's largest wildlife preserve. Lying in the Northern area of New York, Adirondacks has as many as 3000 lakes and ponds and covers over six-million-acre of public and private land. Go for kayaking, Canoe ride or take a quite little boat ride, you are sure to enjoy this place. This park provides a great outdoor experience in any weather. It is also a great destination for rock climbing and includes the Mt Marcy which is the highest peak in New York and the Champlain Valley which has the sixth of the seven great lakes. The park is also surrounded by many tiny little villages and towns where you can enjoy your stay.

Counties in The Adirondacks
Clinton, Essex, Franklin, Fulton, Hamilton, Herkimer, Lewis, Warren

Popular Cities in The Adirondacks
Glens Falls, Gloversville, Granville, Herkimer, Hudson Falls, Johnstown, Keeseville, Lake George, Lake Placid, Lake Pleasant, Lowville, Old Forge, Plattsburgh, Saranac Lake, Ticonderoga, Tupper Lake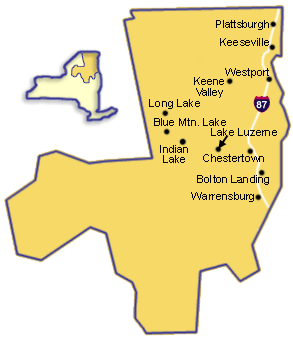 Do you have a useful service, website, or educational program that would benefit school parents in the The Adirondacks area? If so, please contact us to get information on adding you to our list!