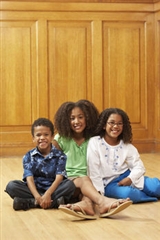 When parents think of schooling that is supposed to come before elementary school to prepare them for the challenges ahead, they think of kindergarten. They think that this is the purpose of kindergarten, and see no need for anything before. The only issue with this, however, is that it only allows for one year of growth and learning before a child is expected to attend something resembling actual schooling. Pre-K, however, extends this time to allow for more time for children to adapt to their new surroundings.

Pre-K allows the students to acclimate to their surroundings in an important way. Pre-K teaches these young children how to deal with their own. It's important for these kids to be surrounded by other kids their own age to learn how to behave. They learn how to deal with other people in a social setting, which comes incredibly handy in the future. These students learn the basic aspects of a classroom. Giving these children the information and training they need for the schooling system a year early may make it easier for them to be successful once they get into the first years of schooling in elementary school.

Pre-K is nothing serious; it teaches kids how to recognize numbers, letters, and colors in order to build on that information in the future. It's the simple things that everyone needs to know, and learns over time. The major purpose of pre-k is to get kids in an environment, with other children, that teaches them how to interact with each other in a school setting. Because the school setting is important for years to come, giving them an extra year of it can help them to be even more successful.