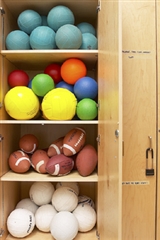 The Centers for Disease Control and Prevention have done numerous studies on children over the last several years. One very troubling statistic stands out quite plainly—over 16% of children ages 6 through 19 are overweight or obese. This amounts to over nine million children across the country, a figure that is three times as large as it was in 1980. And perhaps even more distressing is that another 15% of children in that same age bracket are considered to be at risk for becoming overweight or obese.

Because of these alarming statistics, more schools are trying to implement firmer guidelines for their physical education programs. The states and school districts have come to realize that physical education is, indeed, a very important part of the curriculum.

New York State has very specific requirements for physical education. These vary depending upon the grade, but the bottom line is this: all students in grades K through 12 must attend and participate in a physical education program.

And, there are no waivers excusing students from this requirement. If a student has a physical limitation of some kind, he must bring in a medical certificate indicating his limitation and designating the area of the physical education program in which he can participate.

The physical education program mandated by New York State for all school districts specifies three learning standards which all students are expected to study. These include Personal Health and Fitness, A Safe and Healthy Environment, and Resource Management. Students are assessed on each of these standards; however, alternate assessments are available for students with disabilities.
It is hoped that encouraging students to participate in physical education programs will help to reduce the nation-wide problem there being so many overweight and obese children. New York's program is certainly a step in the right direction!